Innovation
ONE MOTTO: ALWAYS A STEP AHEAD
SADEV rises to every new challenge of competition. Motivated and efficient, our team creates innovative products and solutions that will meet the demands of tomorrow. Anticipating, innovating and investing, SADEV responds to each technological challenge with renewed ambition.
SADEV thinks ahead today to keep its lead tomorrow.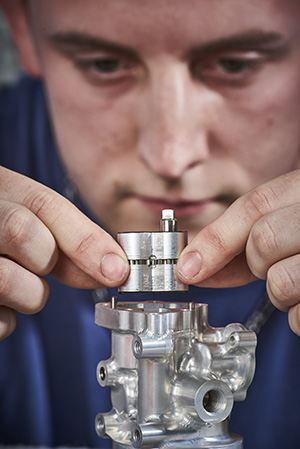 Qualified men and women
At SADEV, innovation is down to people. The men and women at SADEV are trained and qualified to innovate on a daily basis. Our team studies, designs and produces transmissions for motorsport.
Sales personnel, engineers and production work together effectively to guarantee follow-up, a high level of reactivity and constant, irreproachable quality in line with our customers' expectations.
Innovation – a genuine driving force for SADEV – enables us to offer high-performance, advanced products for private individuals and car manufacturers.

An innovative manufacturing process: machines and software based on the latest technologies
SADEV has full control over the entire process and the complexity of the equipment required to manufacture transmission systems and their advanced components. The entire production process is carried out in workshops in order to offer our customers exemplary, constant quality along with impeccable traceability. As we have our own machining, heat treatment, cutting and grinding units, we are always able to address even the most demanding requirements of our market. With our high-performance software and latest-generation machines, we are able to custom make all our components.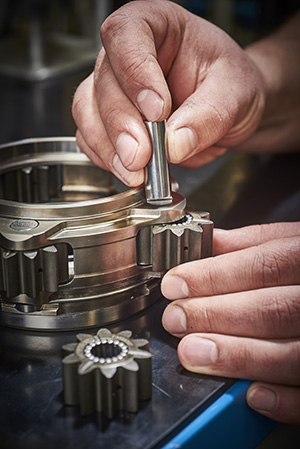 Transmission production: a genuine craft
SADEV also has a fully-automated complete installation dedicated to vacuum heat treatment that operates 24h/24. The laboratory controls and validates processes, as well the results of treatments, then verifies the quality of the metallurgical properties of each of the materials used.
Keen to incorporate the highest-performance technology in all areas, SADEV has opted to use vacuum electron beam welding. This equipment makes it possible to perform extremely precise welding operations and enables designers to push back the limits when it comes to creating complex parts.
Finally, SADEV operates a diversified grinding unit capable of grinding using the hard turning or mould method. In addition to their cutting function, our KLINGENBERG CNC and LIEBHERR CNC, units perform gear teeth grinding.
Control of gear teeth is performed on a P26 and P40 test bench capable of downloading corrective values onto the machines, thereby ensuring continuously improved quality.
SADEV – permanent innovation
Since being at the cutting edge is not enough, SADEV is constantly developing new product ranges combining mechanics with electronics, with hydraulic, electric and pneumatic sources.
Hence SADEV, the transmission specialist, constantly carries out research, develops, creates, produces and innovates, always in line with consistently high standards and performance levels. The latter are achieved thanks to competent people and the company's excellent command of techniques and technologies.