Custom design
CUSTOM DESIGN OF YOUR TRANSMISSION
Each one an individual masterpiece, SADEV's transmissions excel in their reliability while meeting demanding standards. Maximum performance is achieved through custom design, the choice of materials and the quality and modernity of the company's manufacturing tools. Every SADEV product is defined by its level of technology, its excellence and its ambition. As precise as they are reliable, these custom-made machines are feats of precision and technology.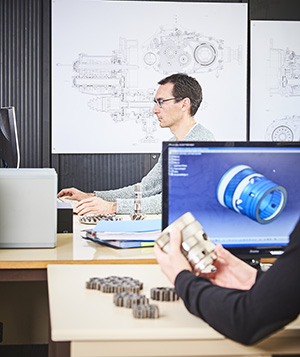 Transmission systems designed by a passionate, qualified team
The design department is the starting point for every SADEV project. Our design office is composed of men and women who are passionate about motorsport with an expert command of their field.
Our team of experienced engineers and technicians pull out all the stops to boldly rise to the technological challenges of the motorsport industry. The design office has access to the most advanced software and technology.
Innovation and experimentation are also key drivers motivating SADEV engineers. Motorsport demands extremely high standards, and so does the design office. Each project engineer leads a close-knit team and nurtures close and confidential relationships with our customers.
High-performance software to produce SADEV transmissions
The efficiency of our design office is the fruit of the dedication of experienced and daring engineers, always ready to ask the right questions and overcome new challenges, thanks to the support of the most advanced software. These tools – especially finite element calculation – are used to carry out in-depth and extremely meticulous assessments of each component in our transmission systems.
Each gearbox project is modelled using CATIA V5 virtual design software and validated using NASTRAN finite element calculation software.
NASTRAN software is used to design a numerical model with a level of precision that allows in-depth and extremely meticulous assessment of each component in the transmission system.
In 2018, SADEV made a substantial investment in a high-performance software solution: ROMAX. This very high-end software solution has been specially developed for gearbox design. It can be used to calculate and simulate gearbox and transmission system components such as gears, rolling bearings, transmission joints, lubrication, etc. It also includes global solutions, such as calculation of gear teeth definitions taking into account shaft bending and rolling bearing assemblies.
A genuine jewel of technology, ROMAX software enables SADEV to make significant progress in the optimisation of transmission systems, in order to offer you ever more reliable, high-performance products.