SDTSA : The legendary SADEV gearbox is back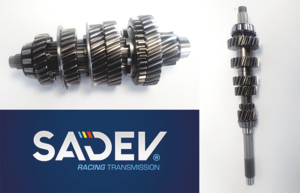 07/06/2020
SADEV relaunches its legendary SDTSA gearbox.
A BIT OF HISTORY ON THE SDTSA GEARBOX
1995 : our first sequential gearbox, the SDTSA is designed and soon Renault decides to fit it in its Spider, Megane Cup, Clio GrA. This is a real hit for SADEV !
2018 : the manufacture of SDTSA gearbox and spare parts ends after 23 years of loyal services.
May 2020 : we could not ignore any longer the many requests concerning one of our flagship gearboxes: the SDTSA. Teaming up with Gieffe Racing, our Italian reseller, we decided to relaunch into production the most common SDTSA spare parts, keeping our high standard quality process.
To order SDTSA spare parts : Gieffe Racing
From now on, we kindly ask you to send all your requests about SDTSA spare parts to Gieffe Racing who has the sales exclusivity of this specific project all over the world. The languages spoken at Gieffe are : Italian, English and French.
Your dedicated contact at Gieffe Racing : Matteo Cotto - matteo.cotto@giefferacing.com
This collaboration being just launched, you'll understand that not all parts will be available immediately. It will therefore be necessary to provide a delay in the supply of a majority of the references.