[THE SADEV EXPERIENCE] BY FIAT MOTORSPORT TURKEY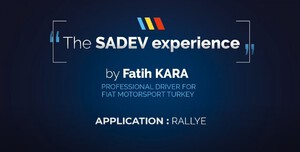 03/13/2023
[The SADEV Experience] – listen to professionals from motorsport industry telling you all about their experience using a SADEV transmission.

Today we would like to share with you the testimony of Fatih Kara, official driver of the FIAT Turkey team, driving his Fiat Tipo Rally car.
For the launch of the #Rally 2023 season in Turkey, Fatih told us about his long experience of using SADEV products in this new interview [SADEV Experience].
[SADEV EXPERIENCE] by FIAT MOTORSPORT TURKEY
Let's meet Fatih Kara, official driver of the FIAT Motorsport Turkey team, driving his Fiat Tipo Rally car. For the launch of the #Rally 2023 season in Turkey